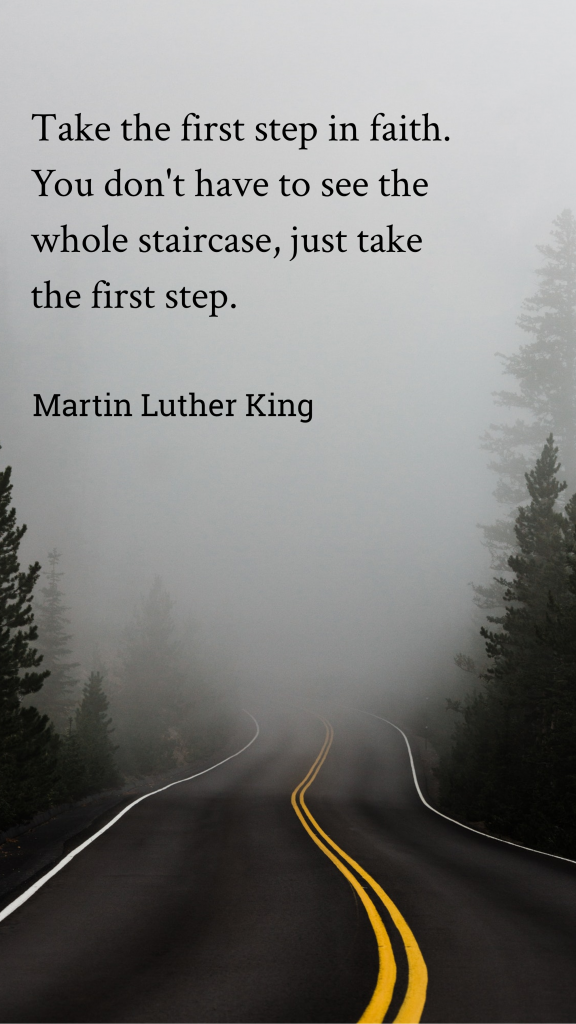 Martin Luther King said "Take the first step in faith. You don't have to see the whole staircase, just take the first step".
We take the first step every single day without knowing the outcome. We have faith that where we are is where we are meant to be, and we walk a few steps further. The key here is putting our fear aside and walking that invisible staircase with confidence. We are in charge of our human journey. It can be an amazing adventure, filled with love, happiness, and health. Of course, stumbling blocks pop up in our way from time to time, but that ending point is out there. We get to walk the staircase and choose the adventure in front of us each and every day.
Take the first step in faith.
This and many other Instagram templates are free, using the PostMuse app. You can find designs and assets for Instagram Stories and Posts. With PostMuse, you can post quality content more often on social media. Download the app for Android and iOS.
Template made with PostMuse.
Martin Luther King
Martin Luther King junior was one of the principal leaders of the civil rights movement of the United States. King challenge racial discrimination and segregation, and he was a prominent defender of non-violence protest. He was born in 1929 in Atlanta Georgia, he was obtained the Baptist minister at the age of 18, and then he graduated from Morehouse College in 1948. He met his feature wife while he was making a doctoral degree in systematic theology in Boston University. King led the civil rights movement in the United States from the mid-1950s until his death by assassination in 1968. His leadership was fundamental to the movement's success in ending the legal segregation of African Americans in the South and other parts of the United States. King rose to national prominence as head of the Southern Christian Leadership Conference, which promoted nonviolent tactics, to achieve civil rights.
After Morehouse, he went to Crozer College, where King discovered the insights and potential of liberal theology and began to articulate his opinions about Christianity. He went on to study the twentieth-century giants of theology (Tillich, Wieman, Niebuhr, and Barth) while pursuing a Ph.D. in systematic theology from Boston University. But by the end of his seminary years at Crozer he had already laid out his understanding of the core doctrines of the Christian faith. He in his movements promoted Christianity as a way of life based on an inner experience and rooted in a commitment to the social gospel. From all his study of religion is where this quote came from, he was a strong believer in faith.
Template made with PostMuse. Download the app for Android and iOS.